Upgrades
Baler Upgrades at Big Bale Services are carried out on Massey Ferguson, Hesston, Case and New Holland Big Square Balers. We offer a range of upgrades designed to improve the day-to-day performance and safety of your machinery.
Take a look at just a selection of upgrades available from Big Bale Services. If you have any questions please don't hesitate to call, we'll be pleased to hear from you.
Bale Weighing
All Massey Ferguson 21/2200 balers can have a weigher retro fitted.
Post 2012 machines come with wiring loom, pre-installed giving a saving on the kit price.
Once installed the weigher then shows on the in-cab monitor, or isobus screen in tractor.
As well as giving a reading for each bale, it also gives an average and total weight.
Ask for kit prices and fitting cost if required.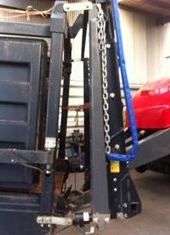 Chain Lubrication Kit
It's always been a big talking point, do you, or don't you, oil chains. It's all down to personal preference, but we are on the Do side of debate. The chain Lube kit can be fitted to any baler, allowing constant oiling, during the working day.
Each chain is fed via metering valves, regulating how much each chain gets, through a brush application.
The oil can be manual or electrical pumped, which ever suits your needs.
The other major benefit is Safety, not having to apply oil while the machine is running, risking injury.
The pictures show electric pump system fitted to a 2150.
Ask for kit and fitting prices.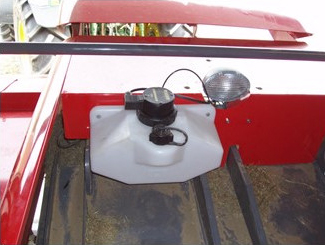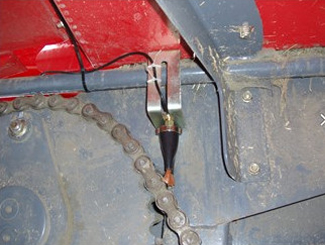 DSE
The DSE4200 is a microwave-based moisture meter that offers you extra baling time.
A DSE4200 moisture meter kit contains a transmitter and a receiver. The transmitter sends out a microwave signal through the bale, while the receiver receives the attenuated signal that is calculated into a moisture percentage.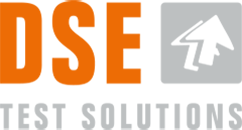 Advantages of the microwaves:
Measuring up to 13.000 cm3 of material by each stroke
Non-sensitive to surface moisture and temperature fluctuations
Transmitter and receiver do not need to have contact with the material
Technical Specifications:
Please contact us for price.
Delmhorst Moisture Meter
The Delmhorst Moisture Meter is available as a handheld kit or baler mounted modification.
This state-of-the-art meter is ideal for high-volume producers who need the time-saving convenience of on-the-go monitoring. Whether in the windrow, on-the-go while baling, or in the bale, the FX-2000 gives clear, accurate moisture readings every step of the way!
Features
Bright, clear digital display
Can be used for on-the-go moisture monitoring or as a portable meter
In continuous mode:

Takes two readings every second
Displays the average and highest of eight accumulated readings
Readings updated every 4 seconds
Built-in back light
Connects to tractor power supply

In portable mode:

Averages up to 100 accumulated readings
Displays average and highest of accumulated readings

Moisture Range: 6%-40% on hay
Built-in calibration check
Audible, adjustable alarm alerts you when a pre-selected MC has been reached
Size: 8" x 3" x 1 5/8"
Weight: 10 oz
Rugged construction ensures years of reliable use
Article Source: http://www.delmhorst.com
Download FX-2000 Owner's Manual here
Hydraulic Load Sensing Valve
All Hesston / Massey Ferguson balers (pre 2100 series) can have a third line load sensing valve fitted. The valve enables the baler hydraulics to operate separately from the spool valves which in turn only operates on demand and not constantly pumped through a spool valve. Most modern tractors have load sensing capabilities and can be modified if not already set up like the Fendt and Massey Ferguson range. Benefits of this system are the saving of a spool valve and not having the need to lock or tie in a spool lever, cuts down on the heat generated in the hydraulic oil, saves horsepower, saves on fuel and ease of use.